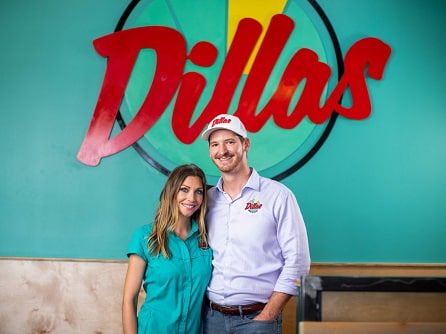 Build Your Own Quesadilla Community
The Culture of Dillas
At Dillas, we have a unique offering in the restaurant space. We are a differentiated concept with no direct competitors—and we're growing fast. We believe in support and culture, and we seek partners that align with the vision of our founders: to be THE brand for Primo Quesadilla Meals.
Our culture powers our purpose: building community through primo quesadilla meals; powered by core values that drive our decision-making.
It's like nothing else out there
We are not just another burger, pizza, or chicken joint. We offer something different—and better! It's like nothing else out there, which means it doesn't compete with existing brands and leaves plenty of room for expansion. We are an amazing opportunity for multi-unit owners.
Operating Smoothly from Day One
We bring a combined 40 years' worth of experience to the table—and we've spent the last 9 years refining our systems for execution and site duplication so that you can be sure that your new location will be operating smoothly from day one. Walk into any Dillas and you will find:
Great site selection
Well-trained Team
Sophisticated systems
Cohesive branding
Enthusiastic culture
Strong unit economics
Best-in-Class Sales Volumes
Our elite AUV's prove that our loyal Dillas Diehards crave these dilla-icious quesadilla meals! Our Dieards don't just crave the quesadillas, they rave about the service. Dillas are the best-staffed, best-trained, and best-supported quick-service restaurants in town. We offer a unique experience, exceptional thru-put and primo quesadillas that customers can't find anywhere else.
More than just a meal
We believe that quesadillas are more than just a meal: they're a way to connect with friends, family, and community. We want to work with franchise owners who share this belief, who want to be part of building something truly special—something that everyone can be proud of.
If you're interested in joining us on this journey, complete the application to learn more!